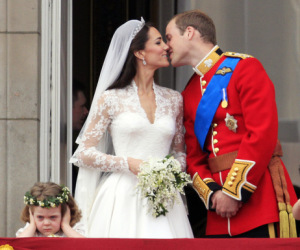 Two billion folks around the world turned on their televisions to watch the Royal Wedding of Prince William to the beautiful Catherine Middleton on April 29, 2011.  We, at Boston Party Machine, opted to TiVo the royal nuptials.  We enjoyed soaking in this happy moment in history, while retaining the right to fast forward 😉  In thinking about the possible musical trickle down from the Royal Wedding to brides and grooms who live state-side, we decided to take a look at the new Duke and Duchess' musical selection.
According to the official Royal Wedding website, Prince William and Miss Catherine were very involved in all aspects of wedding planning, including music.  For the wedding service, reportedly attended by 1,900 guests, they featured British composers that were prominent (Elgar, Britton, Vaughn Williams, and Davies), as well as numerous lesser-knowns.  Fantasia on Greensleeves by Ralph Vaughn Williams and Pomp and Circumstance, March Number 50 by Edgar Elgar are two recognizable pieces from the Royal Wedding that may suit betrothed Anglophiles planning their non-royal wedding, as well.  For a thorough recap of the wedding service music, check out http://www.officialroyalwedding2011.org/blog/2011/April/28/Music-for-the-Wedding-Service.
The harp was the instrument of choice at the luncheon for 650 guests that followed the wedding.  Claire Jones, the Official Harpist for the Prince of Wales (what a title – how amazing would it be to have that gig?!), played her own arrangement of Poème, by Zdenek Fibich.
For their evening festivities, the Royal Couple asked Ellie Goulding to be their one and only performer at their reception for 300 friends and family.  There were no performances by Beyonce and Jay-Z, as predicted by wedding-watchers.  While 24 year old Goulding's career had been more than launched with her album "Lights," which hit #1 in Great Britain, her royal performance now makes her golden all over the globe.  Some of the songs Goulding performed were Elton John's "Your Song" and her own "Starry-Eyed."  If you're not familiar with Ellie Goulding, check out her video of "Starry Eyed" at  www.youtube.com/watch?v=PULdPep_xfs.
The after-party continued into the wee-hours with a DJ spinning tunes for the younger set.  I read on one website that Prince Harry converted the throne room into a nightclub with club and rave style music.  Not sure of the veracity of this report…the artists or songs played…or if the Queen would have approved.
So…that's what we know about the music at the Royal Wedding.  We look forward to hearing if any royally-inspired musical requests start rolling in.  As for BPM, we'll probably be incorporating some of Ellie Goulding's tunes into our repertoire.
Research gathered from the following websites:
www.telegraph.co.uk/news/uknews/royal-wedding/8485697/Royal-wedding-inside-the-lunchtime-reception.html
http://www.nbcwashington.com/entertainment/music/Rising-British-Singer-Performs-at-Royal-Wedding-Reception–121043464.html
http://latimesblogs.latimes.com/culturemonster/2011/05/royal-wedding-coming-soon-to-a-choir-near-you.html