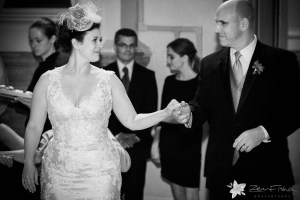 Alexis and Brian had a most elegant wedding at the Boston Public Library, and BPM was thrilled to perform at their reception.  What a gorgeous venue…what a gorgeous celebration!  With a Sinatra start and finish ("Come Fly With Me", "Summer Wind"), Boston Party Machine had everyone up and dancing throughout the night.  Photography provided courtesy of Zev Fisher Photography.
We sat down with Alexis to have a conversation about the music from their celebration, and the journey in getting there.
How did you and Brian decide on the big songs for your reception?
We knew exactly what we wanted, music-wise. The BPM song list had pretty much everything we wanted and was easy to choose from.
What was your favorite musical moment of the night?
We'd include two. Our first was our introduction to the reception as "Mr. & Mrs." preceded by a Trumpet announcement. The second was "Proud Mary!"
Fabulous!  You know, we don't get many requests for a trumpet announcement…that was wonderful!  How did your guests enjoy the performance?
They absolutely loved it. It was great to have an 8-piece band with both a female and male lead vocalist!
Was the sound level okay (especially for your older guests)?   I wrote a piece called "Sound Advice – Notes on Volume" (March, 2011), after my mother recounted a volume-crazy wedding reception she attended…so this is something we like to be mindful of.
I believe so, yes. People expected to have a loud sound; but what we loved about BPM was that the instruments never drowned out the singers (which happens all too often with live music)
If you had a "do-over", would you hire BPM again? And would you choose the same songs for the evening?
Yes, absolutely; on both accounts!
Any music advice to give for a future bride and groom?
Make sure to pick a band and a song list that reflects you as a couple; but do be mindful of your audience's tastes. The more everyone can participate, the more your reception will be memorable for everyone!
Thanks so much, Alexis!  Wishing you and Brian many blessings…