Pieter Struyk is a musical bon vivant, always with a smile on his face, always happy to make music. As Boston Party Machine's drummer, he's the heart and soul of the band.  Pieter brings with him a big, energetic sound and a flexible drumming style.  He can play anything, and play it really well!  We sat down with Pieter Struyk to talk about drums, nicknames, music, and dessert.  Read on, and enjoy meeting a really nice guy…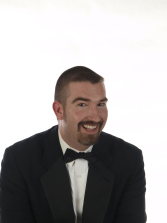 Allison Caplin:  What's the origin of your name,  Pieter?  And how many times do you need to spell out your name?
Pieter Struyk:  I have to spell my name a lot.  It's Dutch.  I tell people to think "Pie Eater"…and that works.  Struyk is a popular name in the Netherlands.
AC: We call you Mr. Sunshine, because you have a trademark smile when you play drums.  Have you acquired any other nicknames as a drummer along the way?
PS:  It's fun to play, and it feels great to smile.  People look so serious if they have their noses buried in their music, and that's not me.  I did get another good nickname when I was doing an Elvis show a few years back.  The Elvis impersonator called me "Pound Cake," which was pretty fantastic.
AC:  How did you get your start as a drummer?
PS:  Actually, I wanted to play the oboe when I started in the school band in 6th grade.  They gave me a musical aptitude test, and found out that I was good at rhythm.  So that's how I started on drums.   It was easy for me.  Imagine how different my life would be if I played the oboe!
AC:  What was your mother's reaction to you falling for the drums?
PS:  Loved it!  Music is in my family.  My mom had a career as a concert pianist.  She was completely supportive.
AC:  Can you explain the role of the drums in bringing together a band?
PS:  I think the equivalent of the drummer in a band is like the point guard in basketball  (kind of like what Rajon Rondo does with the Celtics – except I'm not as good a drummer as he is a basketball player!).  The drums set things up for people to be able sing, play solos, start and end tunes.  It's a facilitating instrument.  If you have a drummer who's tentative or doesn't understand his role, it could be difficult.  The drums can do a lot to influence tempo, but timing is an interactive group function.
AC:  Can you explain the feeling you get before going out to play an event?
PS:  Happy…I like to work.  A friend of mine once put it best:  the day of a gig, you get happy to wake up, happy to get in your car, happy to drive to the gig, happy to play the gig, happy to go to Taco Bell on the drive home from the gig.  It's funfunfun up to the end.  I feel that way with every gig.  It's fun to play music!
AC:  From your vantage point at the back of the band, any observations about performing at events, big and small?
PS:  Since a lot of what I play on the drums is repetitive and groove oriented, I spend a lot of time looking at the audience.  I like watching faces.  You can gauge listener reaction and appreciation, and as a group, respond accordingly.
AC:  What's your favorite type of music to listen to in your spare time (if you have any)?
PS:  Wow – these days, I find myself leaning towards R&B from the 70s to neo-soul (Prince, Maxwell, DeAngelo)…but that all could change.  There are some new artists, like Janel Monae, that I've been in to also.  I love rock.  A good song is a good song.
AC:  Compared with other bands you've worked with, what's it like to be the drummer in Boston Party Machine? 
PS:  It's fun.  I've never been in an event band like this before, so I'm having a great time playing the variety of music.  Rob programs the music really well…which is delightful.   And Rob lets me be myself and play how I want…groove oriented, according to what I think the song requires.  Other band leaders might micromanage, but Rob lets people in the band play according to what's natural for them – and it really works for our group.
AC:  I know that you have a sweet tooth, Pieter:  for dessert, do you go for ice cream or brownies?
PS:  Baked goods all the way.  Keep those chocolate chip cookies coming at rehearsals 😉
What else is there to know about Pieter?  Check out his illustrious bio at http://icineplex.com/bpmtext/about.html.