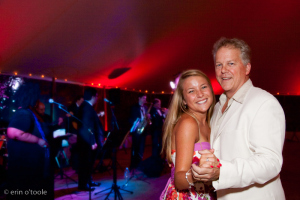 In a recent, non-scientific survey conducted by yours truly, I have come to the conclusion that there are some pretty schmaltzy songs out there for the Father/Daughter dance.  Surprisingly, many lists of Father/Daughter dances contain songs that really aren't danceable, or have inappropriate content for the relationship; Brown Eyed Girl is a popular tune on lists for the Father/Daughter dance…but would you like to dance with your dad, making full eye contact, when the singer belts out "making love in the green grass behind the stadium"?!   I didn't think so.
The following songs are our top 20 picks for the Father/Daughter dance according to our sense and sensibility.  As with the Mother/Son dance, some songs had me headed for the box of tissues.  Therefore, I will grade the songs according to how many tissues may be required:
Father/Daughter Dance Songs – One Hankie :
1.     Celebration, Kool and the Gang
2.     Lean on Me, Bill Withers
3.     Ain't No Mountain High Enough, Marvin Gaye and Tammi Terrell
4.     Kind and Generous, Natalie Merchant
5.     You Are the Sunshine of My Life, Stevie Wonder
 Father/Daughter Dance  Songs – Two Hankies:
6.      Father and Daughter, Paul Simon
7.      Daddy's Little Girl, Michael Bolton
8.      Walk With You, Edwin McCain
9.      I Hope You Dance, Lee Ann Womack
10.    I Loved Her First, Heartland
11.    Unforgettable, Nat King Cole and Natalie Cole
12.    My Wish, Rascal Flatts
13.    Daddy, Beyonce Knowles
Father/Daughter Dance Songs – Three Hankies :
14.   Gift of Love, Randy Travis
15.   A Song For My Daughter, Ray Allaire
16.   Butterfly Fly Away, Miley Cyrus and Billy Ray Cyrus
17.   Daddy's Angel, T. Carter
18.   You Are So Beautiful, Joe Cocker
19.    Butterfly Kisses, Bob Carlisle
20.   Daughters, John Mayer
Top Father/Daughter photograph courtesy of Erin O'Toole of stellaBlue Photography.  Bottom photograph courtesy of Dennis Curran, Curran Photography.