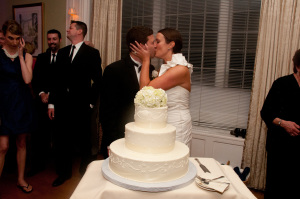 So…what song to pick for the cake cutting?
Glad you asked 😉  From our experience, the cake cutting song differs from all of the other special wedding  songs in that it does not need to be danceable.  When we posted our song list to the BPM website, we omitted some music favorites because they simply weren't danceable.  So, if you have a favorite song that you can't quite dance to, be it a classic tune, a quirky song, or a personal favorite, why not consider it for your cake cutting?  Make it work for you.  Photo courtesy of  Robin Ganter for Classic Photographers.
Here's a list of our top songs for the big coupe du gateau:
Our top requested cake cutting song – "Til There Was You", by the Beatles.
Our second most popular song – "How Sweet It is", by James Taylor.
Other requested songs for a sweet cake cutting:
"All You Need Is Love", by the Beatles
"Marry Me", by Train
"Isn't She Lovely", by Stevie Wonder
"We Are Young", by Fun
"Hey Soul Sister", by Train
"Cut The Cake", by Average White Band
"The Way I Am", by Ingrid Michaelson
"Because You Loved Me", by Celine Dion
"Love Me Tender", by Elvis Presley
"Ice Cream", by Sara McLachlan
"Ribbon In The Sky", by Stevie Wonder
We'd love to hear your ideas about great cake cutting songs.  Hit the comment button, and let us know your pick for the best music to slice by 😉  Bottom photo courtesy of Russell Caron Wedding Photography, wed-pix.com.