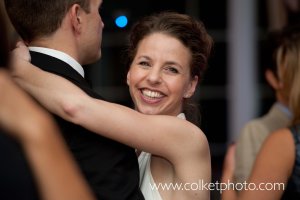 Overlooking the twinkling lights of Boston, Lori and Gregg's wedding reception at the Omni Parker House Hotel was so lovely.  The beaming bride and handsome groom danced their way into the room as BPM played  Justin Timberlake's "Sexy Back", setting the tone for a really fun party.   The energy of the night was filled with joyous celebration and dancing.  BTW – nice song selection on your first dance, Lori and Gregg…we loved playing Kalai's "Down To Earth".  Photographs of their big night provided courtesy of Sara Colket Photography.
We asked Lori and Gregg review the music from the night, and the process of getting there.
How was Boston Party Machine at your wedding reception?
Boston Party Machine absolutely blew me away on my wedding night. They were amazing!! I did not sit down ONCE because I was afraid to miss another good song. Every song they did was sung to perfection. If someone at the wedding did not have a good time, it was their fault! I had the best night of my life and I have to credit the band for that… oh and my wonderful family and friends of course!
What made you choose BPM over other bands out there?
Rob and I emailed a few times back and forth regarding price, music sampling, etc. He was beyond accommodating and made it hard for me to decline. He was really great to work with!
What were some of your favorite musical moments?
There were honestly too many. They played every song I listed and wanted them to play!!
Please talk about your song selection process with your special dances…
My song selections were a little different, and I was not expecting the band to play them. They played our first song and it was EXCELLENT… sounded just like the original Artist.
Any advice you'd like to give to other couples in selecting the right music for their wedding?
Be specific in what you want because the band will do it exactly to the "T"!!