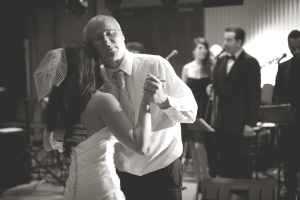 It's not often that Boston Party Machine has been asked to play Sinatra alongside heavy metal…okay…it's never happened before.  But that's exactly what Jen and Sean wanted at their wedding reception at Water's Edge Resort and Spa in CT, and we had a blast doing it!  Not only were the bride and groom into music, but so were their guests:  at one point, we saw everyone on the dance floor shift from dancing to standing/cheering, as if they were watching a concert. Awesome moment!  To add to the singularity of the night, Sean and his friends capped off the festivities by coming up to jam, aided and abetted by Pieter, our drummer (check out the pic below of Sean rocking out on guitar while his friend sings lead vocals).  Tons of fun, folks!  Photo credit:  Creative Image Collections.
BPM sat down with Jen to talk about their big night, and all that went into "making" their music decisions for their wedding reception.
How would you and Sean identify your musical tastes?
Unique. Sean is very into the hard rock/heavy metal scene and I definitely prefer the "older" classic music (Billy Joel, Elton John, Beatles, etc). There's some more modern artists thrown into our music cycle, too but it's a pretty unique iPod list we come up with. 🙂
How did you go about selecting a band for your wedding?
We both agreed, along with his parents, that the band was the most important aspect of the after party. We've all been to those weddings with awkward DJs or the really terrible band that no one wants to dance to and incites people to leave early.  We did NOT want that to be our wedding. We were looking for versatility, familiarity with our music tastes, talent (obviously), and energy- a talented singer who doesn't look like they're having fun can be just as much of a bust. We listened to a lot of bands on websites, youtube, etc. read reviews, etc. and were really excited by Boston Party Machine – not only the great music samples online but the raving reviews we found on a few sites.
On the easy/difficult continuum of song selection, what was it like figuring out the "big" songs for your night?
"Our" songs were fairly easy, "his" songs were like pulling teeth, but that's all Sean's fault! 🙂 As much thought as he put into what kind of music the night should include (the minutiae…like which song to throw the garter to, etc.), he didn't know where to start and then couldn't make up his mind.
What was it like working with Rob?
Incredible. One thing past brides (not those who worked with Boston Party Machine) warned us on was the terror of working with some of the vendors- be it the band, the caterer, etc.  But, we had such a great experience with Boston Party Machine. Through all of the ups and down of our crazy engagement/planning period and the few changes we underwent, Rob was always on top of the communication, always incredibly helpful, and so genuinely nice and concerned. I thought with our unusual tastes we'd have a tough time finding a playlist that worked for us but what he came up with was just perfect- so much better than we could have done ourselves.
That's fabulous to hear!  Do you have any favorite musical moments from the reception?
We might be the only couple in the world to have walked in to "Anarchy X" by Queensryche.  LOL!  It was quite a hit – my husband loved the extended entrance and extra attention; even though half of the guests didn't know where the music was from, everyone was into it. The first dances were so perfect – his mom still talks about theirs ("What The World Needs Now"). And my first dance with my father (see the picture above) was one of his favorite songs of all time ("Unforgettable") – heard it ALL THE TIME growing up and he said it was performed impeccably (which coming from him on that song is saying something!).  Our first dance ("Everything" – Michael Buble) was even better than the "original" – perfect for us. AND, of course, the final song of the night. Again, we're probably the only ones who would request "Silent Lucidity" by Queensryche as our last song, but it ended the night on the perfect tone and it was an amazing few moments with our friends. We even had crashers from other weddings. The other wedding that night had a DJ that was apparently atrocious – we had several guests from that wedding stop us on our way to the after party and tell us they snuck in just to listen to the band because "they were awesome!".  Also, we LOVED the aspect of Sean and his friends being able to jam at the end of the night.  We so appreciate Rob and everyone making that possible for him – Sean just loves that memory of playing. 🙂
Any musical advice you could give another bride and groom?
Besides hire Boston Party Machine?  Seriously the versatility of this band is incredible. The communication (almost as important in wedding planning as in marriage itself!) was perfect. They have real talent – Lorenzee is beyond words, shocking she's not on Broadway or recording – one of the most talented musicians I've ever heard.  And Eddie singing Sinatra – incredible. Again, with Rob, SO professional – so easy to work with, you really feel like he cares about your night as much as you do- they love what they do and it's so obvious when they're performing- the energy is off the charts.  As far as more general music advice – we've all been to those weddings with awkward receptions and odd DJs or even odder bands.  1. People remember the music.  Seven months after our wedding, people we run into still tell us how great the band was. 2. You're so caught up in the moment, make sure you include music that your guests will enjoy, even if it's not your thing. We didn't get to spend as much time dancing as we thought we would, but the floor was always crowded.  We gave Rob our "No Play List" (JUST AS IMPORTANT AS THE PLEASE PLAY LIST) but then just trusted him- things we wouldn't have necessarily chosen (or that parents asked to be included) went over really well.
Wonderful advice, Jen…very thoughtful!  Thanks for taking the time to speak with us about the music at your wedding reception.  Wishing you and Sean many blessings.