Best Wedding Band Ever? Who are we to argue? 🙂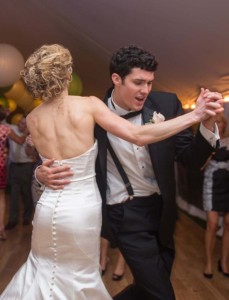 From a recent wedding we played on the North Shore:
We loved having BPM at our wedding! They made our night.
Boston Party Machine was the BEST wedding band EVER!!! They made the entire wedding. They learned all the songs I requested and played them flawlessly. They created the perfect playlist based on our easy conversing back and forth and a questionnaire. They played just the right amount of everything. All ages could not get enough. We didn't stop dancing the ENTIRE night. I have had more calls and emails saying we had the best wedding because of the band. They totally made the night!! Hands down they killed it!
I keep thinking back on different moments from this most magical evening. Each special moment is accompanied by the song that was playing. They created the perfect balance of older classic songs to newer songs to get the party going. There was never a dull moment. Everyone had such a fantastic time and it was all thanks to the amazing music. The 11 piece set created such full-bodied sound and rocked out the entire night. The songs that we requested BPM learn for us were executed perfectly, it was like they wrote the songs themselves! Everyone from my 80 year old Aunt to my 16 year old niece to my mid-20s friends have all been raving about how excellent BPM was. We are still in awe of how spectacular they were. The demo cd and website don't even begin to do justice to the quality of performance BPM gave at our wedding. Thank you so much!!
– And thank you for a fun night! I still have a big smile on my face every time I think about this wedding. It was outdoors under a tent by an ocean breeze, and everybody rocked! Find out how we can make your night special too!!