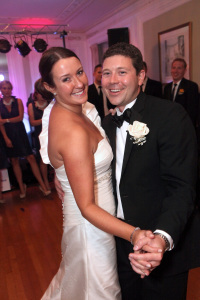 Jane and Derek got married at Henderson House in Weston MA…and it was fabulous.  Both bride and groom beamed with happiness as the made their first entrance to Dion's "And The Night Stood Still." The Mother/Son dance (a country tune, "Future History", By Lightning) and Mother/Daughter dance ("Kind and Generous", Natalie Merchant) were beautiful to witness.   BPM had folks up and dancing through dinner and into the night.   We took a moment to sit down with Jane to review their big night, and the process of getting there musically.  She gives some good advice to future bridal couples…so be sure to read through to the end  🙂  Photo Credit:  Robin Ganter for Classic Photographers.
Did you and Derek know that you wanted a band for your wedding reception (vs a DJ)?
We knew we wanted a band, but did not think we were able to afford one. We were invited to one of BE Entertainment's events and decided to go after work, just to see what it was all about. That is where we heard BPM, and the second they started playing, we both looked at each other and said, "we have to have a band!"
What made you pick Boston Party Machine?
We loved the range in music they played, from classics to top 40.  We loved the female vocalist, Lorenzee, and loved the professionalism they displayed.
How did you figure out what songs you wanted?
It definitely took some time. As Rob will tell you, Derek and I have a wide variety of music that we like, but we have some favorites, and some family favorites that were important to us being part of our day. We also booked BPM early in our planning process, so had about 9+ months to write down songs we liked as we heard them!

Did BPM deliver?
YES! We were so pleased with BPM and so were our guests. All of our friends and family were so impressed with the music. The dance floor was packed the whole night and that was our goal! The specific songs we asked them to play – including "Unchained Melody" for our first dance (Righteous Brothers) and a Dion song, "Serenade" (a sentimental family favorite) for our last dance – were so special.  And of course, the hit of the night, was "Call Me Maybe" by Carly Rae Jepson, which they learned just for us!
Any musical advice you could give another bride and groom?
A band makes all the difference!! Book early and stop looking! Spend time together choosing your music together, and don't ask for advice from friends and family (you will get lots of opinions!). Choose an array of music that will appeal to all ages, that will ensure the dance floor to be packed all night!
And you also wrote down songs you both liked when you heard them over the course of months…that's pretty meaty practical advice, as well, Jane!  I wish that I had thought of that when I was getting married 😉  Thanks for taking the time to look back on the process that lead you towards the music for your big day!  We wish you and Derek many blessings.

BTW – Boston Party Machine will next be performing in showcase at Johnny D's in Somerville this Wednesday, January 30th.  Come check us out!